We are an independent wholesale wallcovering distributor, specializing in contract commercial and designer wallcoverings.

Corner Guards, Handrails and Other Accessories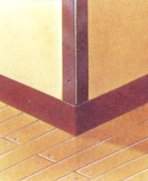 After investing in a costly construction or renovation project, why not protect the finished project with our wide selection of accessories? Our attractive, easy to install and durable corner guards, handrails and wall guards increase safety and reduce maintenance costs over the long-term for high-traffic areas. Many of the products featured here can also cover existing unsightly damage and extend the life of an older renovation by years. Available in a wide variety of shapes, colors and materials to suit almost any site requirement. And, you'll be happy to know, all our accessories are proudly made in the United States of America. Call us toll-free for pricing and details.
Product Types
sample
product line
Corner Guards
Mounted over existing wall surfaces, our flexible yet durable corner guards protect against normal wear and tear in well- travelled areas. Attractive and easy to clean, they are also well-suited to covering over existing damage.
Handrails
Our handrails both reduce the risk of injury from falling and provide the impact protection of a traditional wall guard. Designs conform to OSHA, ANSI Life Safety, NFPA, BOCA, UBC, BOMA, ICBO, SBCCI, and all National Build Code requirements.
Wall Guards
Suitable for use as decorative trim as well as bumper and impact protection, our colorful and easy to maintain wall guards keep furniture, wheelchairs and carts from causing wall damage in high-traffic areas.
Kick-Plates, Door Guards
Easy to install and durable enough for extended use, our kick-plates and door guards protect against the daily abuse of pedestrians and carts in high-traffic entrances, exits and other doorways.