We are an independent wholesale wallcovering distributor, specializing in contract commercial and designer wallcoverings.
About Us
Based in upstate New York, Goldcrest Wallcoverings & Contract Sales, Ltd. is a distributor and independent wholesaler that humanizes the business of Designer and Commercial Wallcoverings.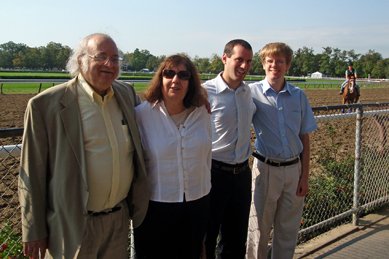 (L-R) Owner/President Neil Gold, Owner/Office Manager Harriet Schiffrin Gold, Sales Rep/Director of Social Networking Alex Gold and Web Designer/Communications Assistant Adam Lenhardt
From our historic building in upstate New York, less than ten miles from the state Capitol, our experienced team is on hand to personally handle your business.
From small offices to franchise-wide renovations to hotels on the Vegas strip, our team has handled it all!
So why not let our fifty years of combined experience in commercial wallcoverings work for your business?
Neil Gold, founder and president of Goldcrest Wallcoverings, has been involved in the sale of designer and commerical wallcoverings for over three decades. First with a large wallcovering distributor in the Northeast and later as an independent wholesaler, the personal attention he gives his customers has been central to his success in the industry every step of the way. By the early nineties, Goldcrest Wallcoverings had expanded to a team of committed people that provides that same level of service to this day.
In 1995, Goldcrest Wallcoverings expanded beyond the Northeast by launching wallcovering.com, one of the first online ventures in the realm of commercial-grade wallcoverings, laying the foundation for the international player that Goldcrest Wallcoverings has become today.
We take your business personally, and guarantee that your call to our toll-free number will be answered by a real person.
Since we deal directly with the manufacturers, we can offer fast service and lower prices on some of the most durable and attractive wallcoverings out there. And most of our products are made in America, so you know they're safe!
We are easy to reach:
Toll-free: 1-800-535-9513
Online: neil[at]wallcovering.com
By mail: P.O. Box 245
Slingerlands, NY 12159-0245, USA